Valkyria Revolution Limited Edition (Xbox One)
Xbox One Software
Item Code: 153102
Valkyria Revolution Limited Edition (Xbox One)
Includes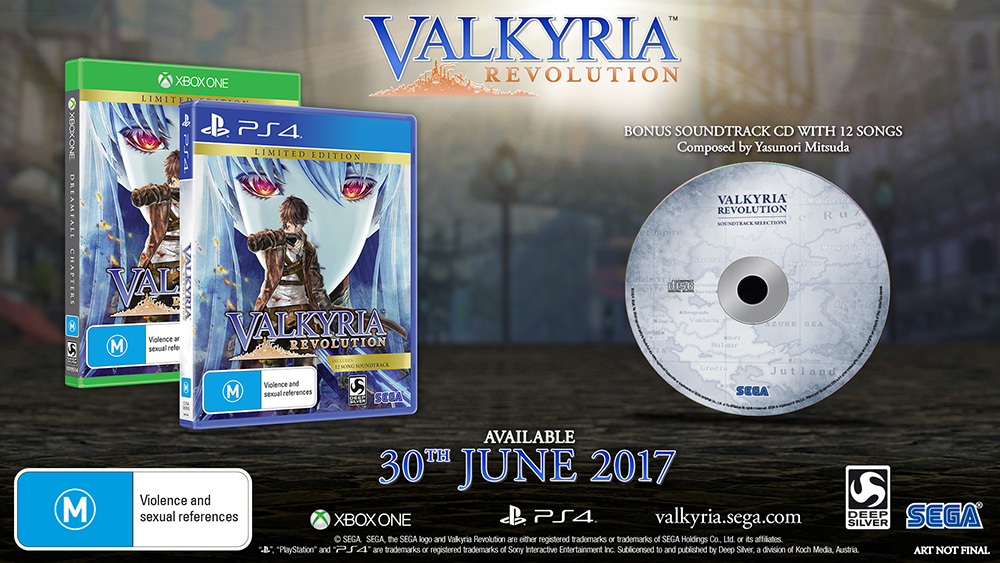 Valkyria Revolution
Bonus Soundtrack CD
Description
The Valkyria, the embodiment of death, is returning to the battlefield in Valkyria Revolution, and players will have to do-and sacrifice-whatever is necessary to liberate their homeland. With an engaging story full of political intrigue, a battle system that mixes real-time combat and tactical strategy, a gorgeous visual style, and more, the game will immerse players into the frontlines of a desperate war. In the wake of a revolution, Jutland's elite soldiers, the Vanargand, must band together to defeat the Ruzi Empire and stop death itself-the Valkyria. This grizzled anti-Valkyria squad is equipped with advanced mana weaponry and has the powerful ability to wield ragnite spells to combat this terrifying threat. The unit is comprised of soldiers who have a high affinity for ragnite, and even Jutland's own Princess Ophelia has joined the ranks. The princess carries the utmost love for her country and has answered the call of duty to liberate those who are suffering from the Ruzi's tyranny. However, Amleth Gronkjaer, the commanding officer of Vanargand, hides a terrible secret. Is he friend or foe to the country he has sworn to protect?.
Features
A Story About War and Liberation: Taking place in an alternate world based on the European era of industrialization, players will band together with Jutland's elite soldiers, the Vanargand, as they fight against the merciless Ruzi Empire. However, things may not be as black and white as they seem...
A Revolution in RPG Combat: Though it bears the Valkyria name, Valkyria Revolution eschews the original series' traditional turn-based strategy for a new hybrid of fast paced real-time combat and tactical acumen across battlefields. Balancing deadly attacks and cunning strategy will be the key to victory.
A New Painterly Look With a Vibrant Soundtrack: The world of Valkyria Revolution is brought to life by the unique visual style provided by a new graphical engine and a vibrant soundtrack composed by the celebrated Yasunori Mitsuda (Chrono Trigger, Stella Glow).
Languages: The powerful drama can be experienced in its original Japanese voice acting with English subtitles or in a brand-new English dub!