Project Cars 2 Ultra Edition (Xbox One)
Xbox One Software
Item Code: 153128
Project Cars 2 Ultra Edition (Xbox One)
Includes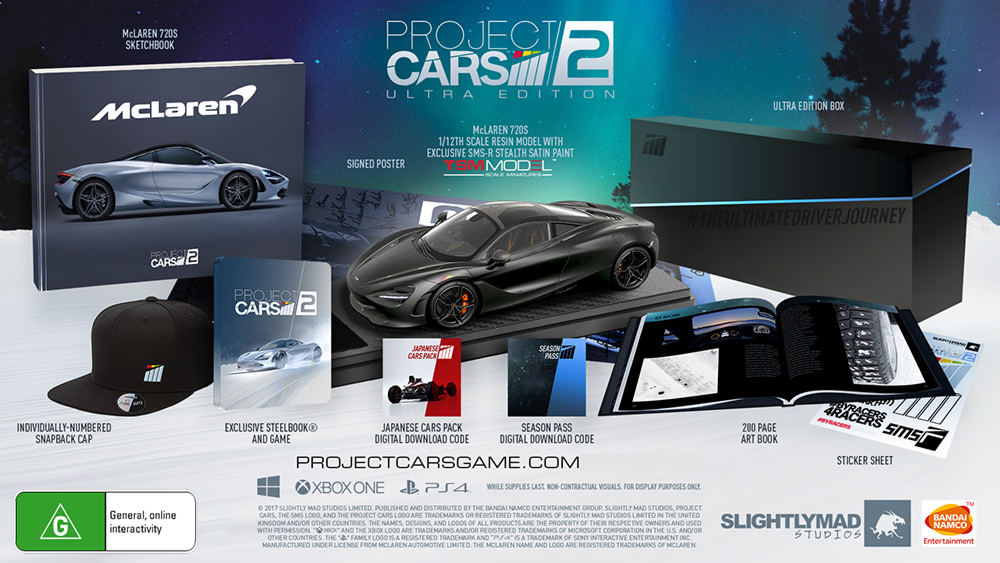 Includes the full Project CARS 2 game in an exclusively designed, premium-packaged Steelbook™ case, the world's most sought-after collectable packaging
A 1/12 scale resin model car of the gorgeous McLaren 720S in one-off SMS-R Stealth Satin
The McLaren 720S Sketchbook: Take a unique journey through the development of this ground-breaking supercar. Exclusively created in partnership with the design team from McLaren, the book lifts the covers on the making of the 720S, including never-before-seen early sketches and models, clays and renders, and guides you all the way through to the final production of McLaren's new supercar
The Project Cars 2 Art Book: A beautifully crafted book that takes you behind the scenes to reveal how the raw excitement of the racing world has been brought to life in the virtual realm. Featuring exclusive images taken throughout the development process, the 200-page book demonstrates the immense attention to detail that is the hallmark of the game, whilst showcasing the stunning new cars and true-to-life locations that make this the world's premiere motorsports game
The Esport Live VIP Pass: Present this pass to any Slightly Mad Studios, or Bandai Namco staff member at Project CARS Esports live events anywhere in the world, and you will be treated to the full benefits that come from being a Project CARS VIP. Meet the team, jump to the front of the queue, or maybe even pick up some free swag!
An individually-numbered, embroidered Snapback cap
A stunning Project CARS 2 poster signed by the SMS team as well as the real-world drivers who make up Team SMS-R
A Project CARS 2 Sticker Sheet: Unique and stunning Project CARS, SMS-R, and Esports imagery and iconography
The exclusive Japanese Cars Pack. Revel in iconic JDM machinery with this added content that features four cars from iconic Japanese manufacturers Honda and Nissan: Nissan's infamous Group A R32 Skyline GT-R (with distinctive livery), Nissan's sublime 280ZX GTX race car (with distinctive livery), The Euro-spec' Honda Civic Type R, a modern day hot-hatch, Honda's 2&4 Concept Car—get a feel for the future with this 13,000rpm collaboration between automotive and motorcycle design that screams performance
The Season Pass: Project CARS 2 will be fully-supported post-launch with new, bold additional content featuring dozens of cars, as well as many tracks that will enhance and extend the overall experience. All these additional contents will be available to Season Pass holders the instant they are released at no charge
The Motorsport Pack*: Exclusively available to Season Pass holders, this exclusive, bonus pack of fan-favourite race cars includes: The 1974 Jaguar E-Type V12, Group 44—beauty, speed, and an absolute motoring icon, The Panoz Esperante GTR-1—a '90s GT stalwart, The Audi 1991 V8 DTM—a DTM legend with 460hp @ 9,500RPM, The 2016 Opel Astra TCR—a 300hp Touring Car monster
Description
Project CARS 2 is the next evolution in the award-winning racing series, featuring the most iconic cars racing under the most thrilling conditions to deliver the Ultimate Driver Journey.
Created by gamers, tested by world-class racing drivers from Team SMS-R,
and the definitive choice of Esports pros... Project CARS 2 captures the essence of real racing in the most beautiful, intense, authentic, and technically-advanced racing game on the planet.
THE HEAT OF COMPETITION
Discover your ultimate driver journey and test your skills against the most intense of competition to become the next motorsport hero. Compete against friends in all-new online championships and across a wide selection of vehicles both on the tarmac and off.
Project CARS 2 was built from the ground up with Esports in mind, including in-game racing license accreditation, dedicated director/broadcaster functionality, and streaming integration. With multiple series and championships planned through 2017 and beyond, Proejct CARS Esports will continue to be the single destination for leading teams and up-and-coming athletes.
THE PINNACLE OF AUTHENTICITY
Created by gamers and fine-tuned by pro drivers.
Class-leading visuals defined by a 1:1 digital craftsmanship, precision physics, and dynamic real-time vehicle, surface, and seasonal conditions. Go beyond reality and experience true-to-life driving immersion with VR and 12K resolution support. Project CARS 2 is as exhilarating and challenging to play as it is state-of-the-art.
THE POWER OF CONDITIONS
Race without boundaries - anytime, anywhere. Day or night, wet or dry. With LiveTrack 3.0, tracks dynamically transition from clean to rubbered-in to dirty, changing the grip physics whether on tarmac, dirt, or ice.
Drivers can race a full 24-hour cycle with real-time vehicle, weather, and temperature changes, and even across all four seasons - faithfully recreating the atmospheic conditions and ambience of a specific time of year. Even weather effects like ground mist, thunder, and snow mean Mother Nature must now be conquered.
Features
Over 170 licensed cars from the most iconic brands
The largest track roster of any console racing game including ice and dirt tracks
New vehicle types and motorsport classes including Rallycross, IndyCar, and Oval
Dynamic time of day, weather, and new seasonal conditions
New Online Championships mode
LiveTrack 3.0 powers dynamic surface conditions that affect vehicle performance and handling, and evolves the track over the course of a race weekend
Esports built-in from day one with full ranking, and broadcasting/streaming functionality
Bleeding-edge tire physics, advanced AI, and intuitive gamepad control
Additional Information
| | |
| --- | --- |
| Condition | New |
| Release Date | 22nd September 2017 |
| Weight (kg) | 7.800000 |
| Barcode | 3391891993326 |
| Product Type | Video Game |
| Publisher | Bandai Namco Entertainment |
| Developer | Slightly Mad Studios |
| Region Code | PAL |
| Classification | G |
| Platform | Xbox One |
| Genre | Racing |
| Item Code | 153128 |