Ni No Kuni II Revenant Kingdom Prince's Edition (Switch)
Switch Software
Item Code: 178675
Ni No Kuni II Revenant Kingdom Prince's Edition (Switch)
Collect in Store
Delivery
Shipping Estimation
Enter your postcode to see available delivery methods and estimated postage cost.
Includes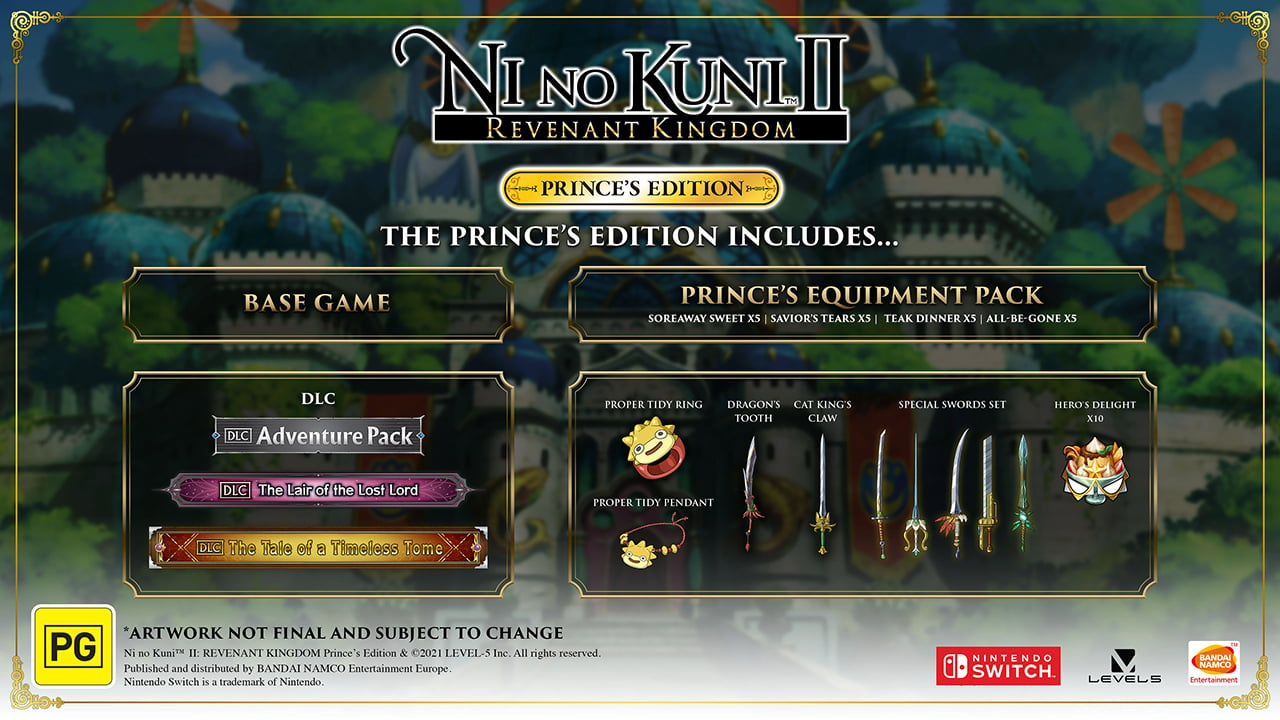 Ni no Kuni II: Revenant Kingdom Prince's Edition includes:
Adventure Pack: New outfits and items along with the Faraway Forest Cave dungeon (DLC)
The Lair of the Lost Lord: A new extraordinary quest in a new world. Contains new items, equips and a new dungeon (DLC)
The Tale of a Timeless Tone: Explore Evan's dreams and explore new contnet including the Solosseum Slog dungeon (DLC)
Prince's Equipment Pack: Contains Soreaway Sweet x5, Savior's Tears x5, Teak Dinner x5, All-Be-Gone x5
Description
Players will follow the story of Evan Pettwhisker Tildrum, a kid who lost his promised throne in the kingdom of Ding Dong Dell and sets himself on a quest to establish a new kingdom, thus uniting his world under a reign of happiness and freedom with the help of the friends he will make along his journey.
Join the young king Evan as he sets out on an epic quest to found a new kingdom, unite his world and save its people from a terrible evil.
Embark on this unforgettable adventure which blurs the line between animated feature film and video game. Developed by LEVEL-5, Ni no Kuni II features enchanting character design from the legendary artist Yoshiyuki Momose and a stirring soundtrack composed by the world-famous Joe Hisaishi.
Additional Information
| | |
| --- | --- |
| Condition | New |
| Release Date | 24th September 2021 |
| Weight (kg) | 0.100000 |
| Barcode | 3391892015430 |
| Product Type | Video Game |
| Publisher | Bandai Namco Entertainment |
| Developer | Level-5 |
| Region Code | PAL |
| Classification | PG |
| Platform | Nintendo Switch |
| Genre | RPG |
| Item Code | 178675 |