Logitech G29 Driving Force Racing Wheel with Assetto Corsa Ultimate Edition Bundle
Racing Simulation
Item Code: 146822
Logitech G29 Driving Force Racing Wheel with Assetto Corsa Ultimate Edition Bundle
Description
Logitech G29 Driving Force Racing Wheel
Dual-motor force feedback with smooth helical gearing
On-wheel controls
RPM/Shift indicator LEDs
Separate pedals unit
High quality hand-stitched leather and steel components
Anti-backlash hardware keeps wheels and pedal tight
Mounts securely to table or racing rig
Available 6-speed manual shifter sold separately
Features
Logitech G29 Driving Force Race Wheel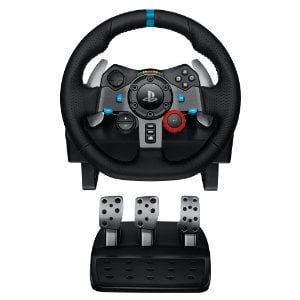 The definitive sim racing wheel for PlayStation 4 and PlayStation 3
Driving Force is designed for the latest racing game titles for your PlayStation 4 or PlayStation 3 console. Add Driving Force to your controller selection and you may never want to race with a regular controller again. With dual-motor force feedback, on-wheel controls and responsive pedals, G29 makes racing feel like the real deal.

Made for PlayStation 4 and PlayStation 3 racing titles
Get more from your console experience. Add realistic steering and pedal action made for the latest PlayStation 4 and PlayStation 3 titles.

Built to last
Durable solid steel ball bearings in the wheel shaft and stainless steel paddle shifters and pedals are designed for precision driving. Real hand-stitched leather gives you the look, feel and comfortable grip of a true racing wheel.

Realistic force feedback
Realistic force effects simulate the feel of tires on the road through every turn and terrain. Anti-backlash helical gearing provides exceptionally smooth, quiet steering action and keeps the wheel and pedals feeling tight for maximum control.

Easy-access game controls
D-pad, console buttons, paddle shifters and LED indicator lights are conveniently located at the wheel for seamless access to racing controls.

Responsive pedal unit
A separate floor pedal unit enables a more natural body position for driving. Comfortably brake, accelerate and change gears like you would in an actual car. The nonlinear brake pedal mimics the performance of pressure-sensitive brake systems for a more responsive, accurate braking feel.
Requirements
Logitech G29 driving Force Racing Wheel
SYSTEM REQUIREMENTS
Playstation®4 or Playstation®3
Powered USB port
OR
Windows 10, Windows® 8.1, Windows 8 or Windows 7
Powered USB Port
Internet connection and 150MB hard drive space (for optional software download)
Games that support Logitech® force feedback racing wheel
Specifications
Logitech G29 Driving Force Racing Wheel
PART NUMBER
PHYSICAL SPECIFICATIONS
Wheel
Height: 270 mm (10.63 in)
Width: 260 mm (10.24 in)
Length: 278 mm (10.94 in)
Weight without cables: 2.25 kg (4.96 lb)
Pedal
Height: 167 mm (6.57 in)
Width: 428.5 mm (16.87 in)
Depth: 311 mm (12.24 in)
Weight without cables: 3.1 kg (6.83 lb)
TECHNICAL SPECIFICATIONS
Software Support (at release): Logitech Gaming Software
Connection Type: USB
USB VID_PID: 046D_C24F (PC Mode)
USB Protocol: USB 2.0
USB Speed: Full Speed
Indicator Lights (LED): Yes
In The Box
Logitech G29 Driving Force Racing Wheel
Steering wheel
Pedals
Power adapter
User documentation