Far Cry 5 Gold Edition (PS4)
PS4 Software
Item Code: 153073
Far Cry 5 Gold Edition (PS4)
Includes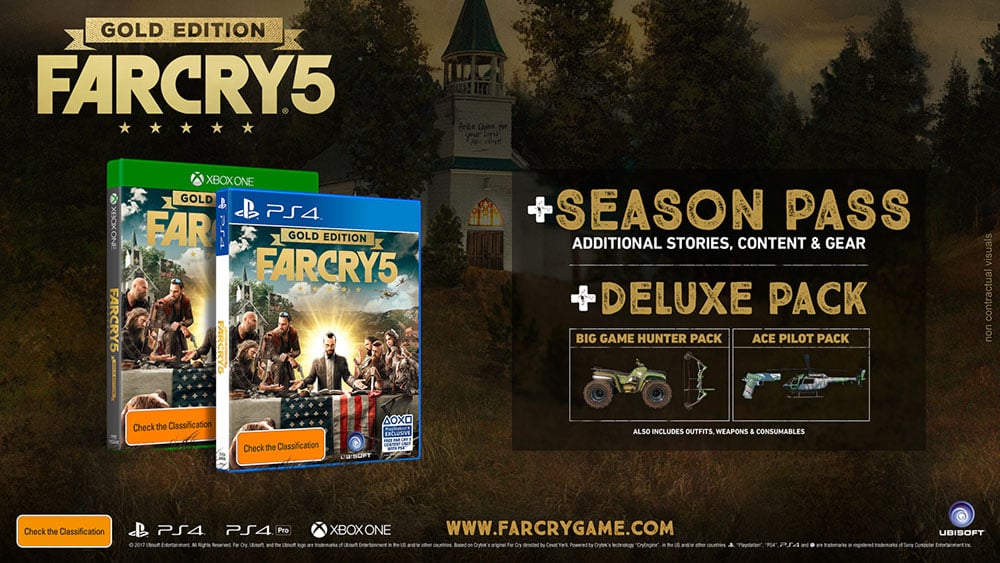 Far Cry 5
Season Pass
Deluxe Pack DLC (Big Game Hunter Pack & Ace Pilot Pack)
Description
Welcome to Hope County, Montana. This idyllic place is home to a community of freedom-loving people - and a fanatical doomsday cult known as The Project at Eden's Gate. Led by the charismatic prophet Joseph Seed and his devoted siblings, Eden's Gate has been quietly infiltrating every aspect of daily life. When your arrival incites the cult to violently seize control of the region, you must rise up and spark the fires of resistance to liberate a besieged community.
Freely explore Hope County's rivers, lands and skies with the largest customisable weapon and vehicle roster ever in a Far Cry game. You are the hero of the story in a thrilling world that hits back with every punch, and where the places you discover and the locals you ally with will shape your story in ways you'll never see coming.
Features
Spark the fires of resistance against a fanatic cult
Stranded in hostile territory, find strength in the community around you to lead a resistance against a cult taking over Hope County, Montana.
Recruit Guns for Hire from a huge cast of characters. Leverage the special skills of up to 3 allies at a time to turn the tables on The Project at Eden's Gate.
Command specialized Fangs For Hire, animals you can control and command to support any playstyle.
Ally with a Friend For Hire to take down the cult in a two-player co-op experience that extends across the full campaign.
Carve your own path
The freedom to go in any direction – you decide the when, the where, and the how.
From the moment you enter Hope County you have the freedom to tackle the world in any order you choose.
A huge cast of memorable characters shape your story as you ignite the resistance against a cult threat.
For the first time in Far Cry, you are the hero – create your own avatar and customize your character.
A world that evolves
Play your way in a dynamic open world that adapts and reacts to the choices you make.
Raise the Resistance Meter to evolve the world in meaningful ways.
Disrupt the cult's doomsday preparations to draw the Heralds into epic showdowns in the open world.
Your choices affect the world as new gameplay opportunities arise from the chaos.
Dynamic toys
Tear up the countryside in iconic American vehicles you can make your own; from muscle cars to big rigs, from ATVs to tractors.
Commandeer a plane to engage cult forces in an epic aerial dogfight or bombing run.
Discover the natural riches of Montana and hunt, fish, and explore every inch.